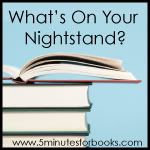 I'm not going to take a picture, but here are the books in Mt. TBR (because my nightstand does not hold my Mt. TBR):
Mr. Monk in Outer Space by Lee Goldberg
Reclaiming Nick and Finding Stefanie by Susan May Warren (book 1 from the library, book 3 is a blog tour book; book 2 is checked out from the library!)
Staying Home is a Killer by Sara Rosett (Air Force wife mystery!!!)
Catch a Rising Star and That's (Not Exactly) Amore by Tracey Bateman (books 1 and 3 in a series; book 2 is on the PBS wish list; book 3 is a blog tour book) **amended to add: Tracey emailed me! She is so nice!**
The Healing Choice (see previous post for info. as it is a blog tour book)
Burnt Toast by Teri Hatcher
That's just a few. Sad, but true.