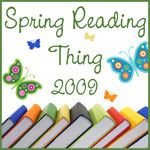 Yay for Spring!
FICTION:
[X]
Turning the Paige by Laura Jensen Walker (review)
Nothing but Trouble
by Susan May Warren (review)
[X]
Waiting
by Ha Jin (book club)
[X]
Channeling Mark Twain
by Carol Muskie Dukes (book club)
[X]
Fax Me a Bagel
by Sharon Kahn (Jewish lit challenge)
[X]
Paper Roses
by Amanda Cabot (review)
[X]
Friday Night Knitting Club
by Kate Jacobs (reread before sequel...)
Knit Two
by Kate Jacobs (sequel to FNKC) (TBR Challenge book)
NONFICTION:


The Faith of Barack Obama
by Stephen Mansfield (review)
Experiencing the Spirit
by Henry and Melvin Blackaby (review)
Clutter-Free Christianity
by Robert Jeffress (review)
[X]
GOD Strong
(for military wives) by Sara Horn (advance manuscript! woohoo!) - No review because it isn't published yet. The review will come when it comes out.
Sign up
HERE
and join...you know you want to!