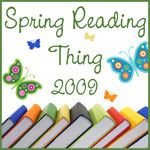 Wrapping up Year Three of Participating in Callapidder Days' SRT:
FICTION:
[X]
Turning the Paige by Laura Jensen Walker (review)
- it was a good book, very enjoyable. Click on link above to read my review.
Nothing but Trouble
by Susan May Warren (review) **Began, but then misplaced. I think I packed it when we moved stuff out of the downstairs. I'll find it and read it this summer! **
[X]
Waiting
by Ha Jin (book club) - It's a good one. We had a spirited book club discussion about this one!
[X]
Channeling Mark Twain
by Carol Muskie Dukes (book club) - Good, not great. Sort of hard to describe and review, which is why I didn't :)
[X]
Fax Me a Bagel
by Sharon Kahn (Jewish lit challenge)
- I have read two of Sharon Kahn's Ruby mysteries, and I enjoyed both. I'll be checking them out at the library again soon!
[X]
Paper Roses
by Amanda Cabot (review) - Good. My review was for another site and hasn't been posted yet, so that's why no link.
[X]
Friday Night Knitting Club
by Kate Jacobs (reread before sequel...) - Enjoyed it again!
[X]
Knit Two
by Kate Jacobs (sequel to FNKC) (TBR Challenge book) - Really enjoyed this one! A satisfying sequel that I just finished today. I'm doing the "Georgia Afghan" pattern in the back of the book. If you want to find that, check out
Kate Jacobs' site
. Click on the book cover and then the "knit" on the top of the page, for the pattern!
NONFICTION:


The Faith of Barack Obama
by Stephen Mansfield (review) **began, then again, packed away and will find and read again later**
Experiencing the Spirit
by Henry and Melvin Blackaby (review) **I read about half before setting aside.**
Clutter-Free Christianity
by Robert Jeffress (review) **I read the first couple of chapters before setting aside.**
[X]
GOD Strong
(for military wives) by Sara Horn (advance manuscript! woohoo!) - No review because it isn't published yet. The review will come when it comes out.
I finished 8 of the 12 books I'd set aside for myself to read. What I didn't count on was more review material coming my way in the meantime, which set me back. Plus, I just don't read nonfiction quickly. Overall, I'm disappointed I didn't finish, but overall not unhappy with the challenge results.
Thanks again,
Katrina
, for hosting this!