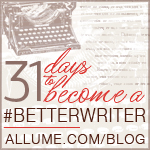 In response to
Day 12: Finding My Voice
I was going to write about my family, but then I realized this is about me. So, here we go.
1. Learning more about God.
2. Reading. I read a lot.
3. Journaling. It's my therapy. I also encourage others to journal.
4. Encouraging others, at least until I'm about empty, then I'm pretty much done.
5. Teaching. I have rediscovered this passion.
6. Drinking coffee. Really good.
7. Talking to my friends on the phone (a bit more difficult now that I've only got one good ear).
8. Singing (also more difficult with one good ear).
9. 18th-19th century American literature.
10. Jane Austen.
11. Shakespeare.
Encouraging others: I'm great at encouraging everyone else except myself. Why is that? I do okay in the spotlight in a classroom or speaking to a group, but when it comes to praise, I deflect it all. I am not sure why except it was what I was taught to do.
So I encourage others until I'm drained dry and wrung out. Because I love it and it's my calling.