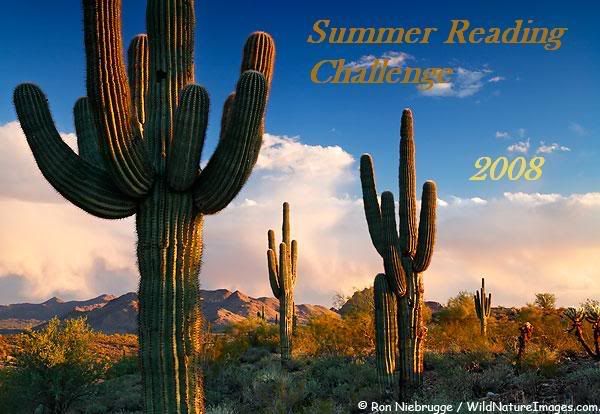 June 1-August 31, 2008
My intention/purpose for entering this
summer challenge
is to finish some books. Cross a few off the TBR list and other challenges.
This is what Kathleen envisioned with this challenge:
The purpose is to encourage "intentional" reading--that is, to have a plan and stick to it, more or less (admittedly, my effort is usually in the less category, by which I mean the sticking-to, not the amount of reading). ... The rules, such as they are, are simple: Copy the picture above, find some books you want to read over the next three months, post the picture and the list at your blog, and link to this post so others can join the fun. Then, read away!
Here is my Summer Challenge list (when finished, they turn into links to the reviews):
Deadly Exposure by Cara Putman
Skid by Rene Gutteridge
Splitting Harriet by Tamera Leigh
Angry Housewives Eating Bon Bons by Lorna Landvik (also a Nattie challenge book)
Truffles by the Sea by Julie Carobini
(also a Heard it Through the Grapevine challenge book)
The Pact
by Jodi Picoult
alternates:
Nothing But the Right Thing by Stacy Hawkins AdamsWatercolor Pearls by Stacy Hawkins Adams
Harvesting the Heart
by Jodi Picoult